source data:-
Map, hand coloured engraving, A New Map of the Counties of Cumberland and Westmoreland Divided into their Respective Wards, scale about 4 miles to 1 inch, by Emanuel Bowen and Thomas Kitchin et al, published by T Bowles, Robert Sayer, and John Bowles, London, 1760.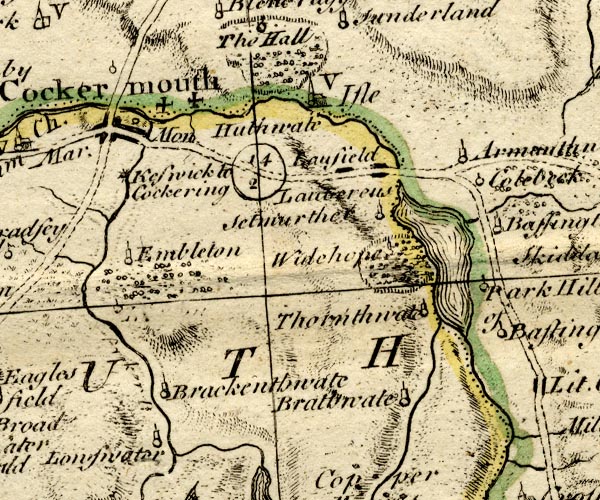 BO18NY12.jpg
road across stream
item:- Armitt Library : 2008.14.10
Image © see bottom of page
source data:-
Guide book, A Description of Scenery in the Lake District, by Rev William Ford, published by Charles Thurnam, Carlisle, by W Edwards, 12 Ave Maria Lane, Charles Tilt, Fleet Street, William Smith, 113 Fleet Street, London, by Currie and Bowman, Newcastle, by Bancks and Co, Manchester, by Oliver and Boyd, Edinburgh, and by Sinclair, Dumfries, 1839.

goto source
Page 86:- "..."
"... the Haws, a village watered by a stream called White Water Dash, and issuing from the north side of Skiddaw. The bridge is uncommonly pictu-"


goto source
Page 87:- "[pictu]resque, and indeed the artist may here enrich his portfolio with several choice studies. ..."