Page i, title page:-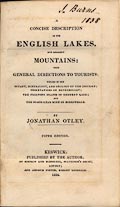 A CONCISE DESCRIPTION OF THE ENGLISH LAKES, AND ADJACENT MOUNTAINS: WITH GENERAL DIRECTIONS TO TOURISTS; NOTICES OF THE BOTANY, MINERALOGY, AND GEOLOGY OF THE DISTRICT; OBSERVATIONS ON METEOROLOGY; THE FLOATING ISLAND IN DERWENT LAKE; AND THE BLACK-LEAD MINE IN BORROWDALE.

BY JONATHAN OTLEY.

FIFTH EDITION.

KESWICK: PUBLISHED BY THE AUTHOR; BY SIMPKIN AND MARSHALL, STATIONER'S COURT, LONDON; AND ARTHUR FOSTER, KIRKBY LONSDALE. 1834.